It's June of 1863 and Sarah McCoombs feels isolated and uncomfortable when her mother pulls her from school and allows a doctor to treat her scoliosis with a cumbersome body cast. She thinks life can't get much worse, but she's wrong.
Physically and socially awkward, 15-year-old Sarah thinks her life is crumbling. She worries about her brother Micah and neighbor Martin, both serving in the Union Army. She frets over rumors that rebel forces are approaching the nearby town of Gettysburg. When the McCoombs farm becomes a battle field and then a hospital, Sarah must reach deep inside herself to find the strength to cope as she nurses wounded soldiers from both sides. Can she find even more courage to continue to follow her dreams despite her physical disabilities and her disapproving mother?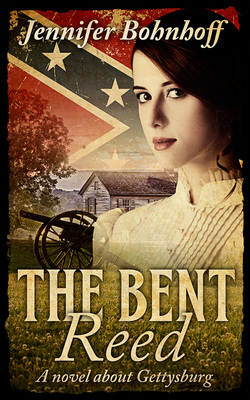 ---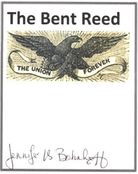 Do you have a copy of The Bent Reed that isn't signed by Jennifer Bohnhoff? You can fix that! Either download a signed book plate like the one shown on the left by clicking the button, then print it, cut it out and paste it on the inside copy of your book.

Would you prefer a bookplate that's been personalized by the author with a dedication to someone? Use the form below to send your request to Jennifer Bohnhoff. Be sure to tell her what you'd like the bookplate to say and include your mailing address and she'll mail you one that's printed on peel and stick paper so that you can add it to your book!
---