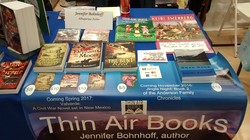 I sell the majority of my books at craft shows. Often a shopper will stop to study the banner that hangs along the front of my table, then ask the question "Why Thin Air Books?"

Good question.

I created Thin Air Books to market my self published books after a group of other writers came to the conclusion that books sold better if they came from a publishing house. There are a number of reasons why I chose the name that I did.

When I started Thin Air Books, I lived in Albuquerque, New Mexico.

While Denver is known as the Mile High City, Albuquerque is also a mile above sea level. The air up here is pretty thin. It is even thinner on the top of the Sandias, the mountains that lay just east of Albuquerque. I used a picture of the snow covered Sandias, taken from my backyard, as the
backdrop for the banner
on the top of my website.
| | |
| --- | --- |
| Since then, I have moved into those mountains. I live at nearly 8,000 feet - in rarefied air, indeed. The air is thin and dry enough that it cools off quickly at night. A bazillion stars spangle the heavens on a clear night. From my balcony I can see the lights of Santa Fe, and the Sangre de Cristo Mountains beyond. | |